Puranpoli is my favorite dessert, hands down! My mom always makes puranpoli when she visits us or when we visit Mumbai. So this time, when she visited us, I recorded the recipe. Her recipe is the best.
Puranpoli is best eaten with a lot of ghee although some people also prefer milk. I personally prefer ghee. Ghee aids protein synthesis during digestion. Ghee also makes the puranpoli taste heavenly and the poli melts in your mouth.
This puranpoli is made with chana dal and jaggery and is one of the more difficult desserts. It is very popular during Holi, the Indian festival of colors.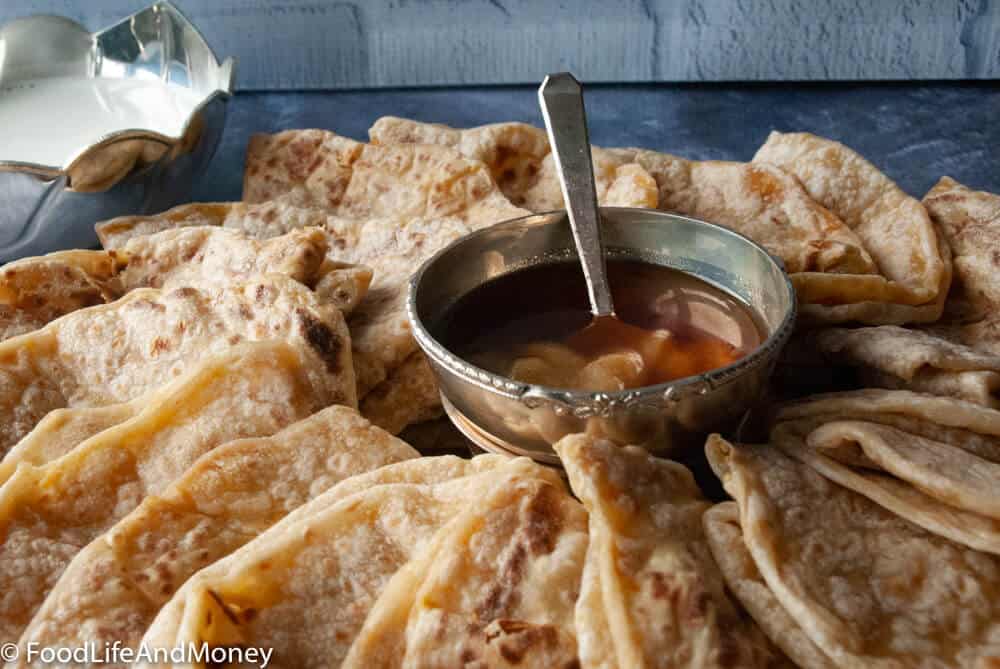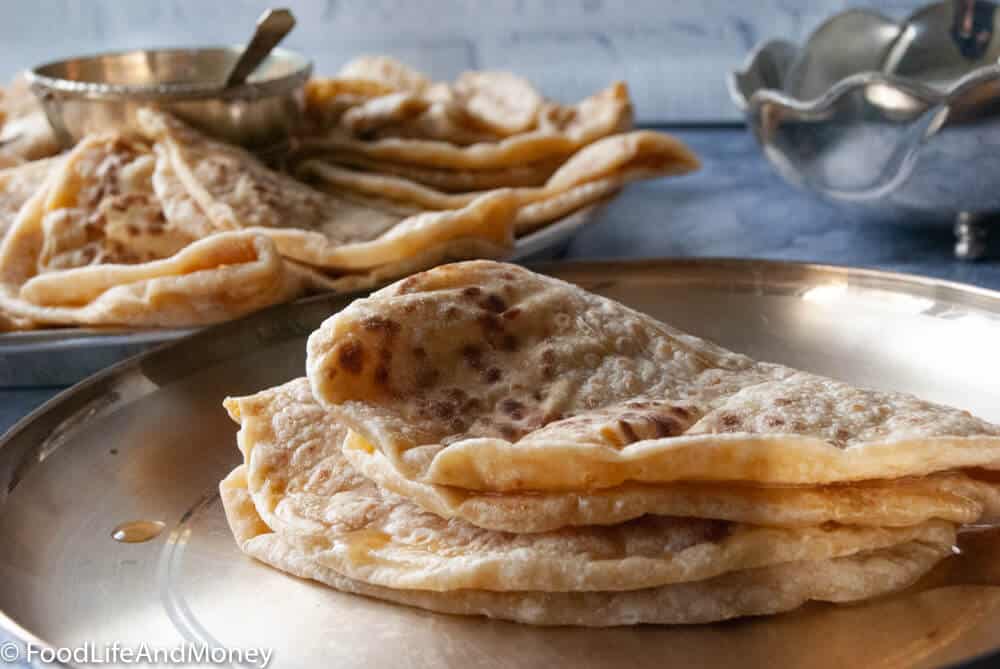 How to make the best puranpoli
The key to making good puran poli is good puran, which is the stuffing made of chana dal and jaggery, and the dough. Soaking the dal in hot water helps cook it faster. I like to pressure cook the dal in a pressure cooker. Then I strain the dal to remove any water. Making puran is time-consuming so patience is key. After adding jaggery to the dal, it needs to be stirred continuously to avoid burning the puran. Once the spatula is able to stand in the puran pan without tipping, the puran is ready for the next step.
There is a special masher I used to mash the puran really fine. It is called puranyantra. If you don't have it, you may use a potato masher or a food processor. You can make the puran a day ahead and refrigerate it until you are ready to make puranpolis. Also, this puran freezes well for upto a month in an airtight container.
The next step is the dough. Prepare the dough at least 20 minutes before making the puranpoli. To make soft puranpoli, you must knead the dough really well and with a lot of oil. The dough has to be really soft. Take a look at the video to get a better sense of the recipe. I find the KitchenAid mixer really useful. This is an affiliate link.
Soft Delicious Best Puranpoli Recipe | FoodLifeAndMoney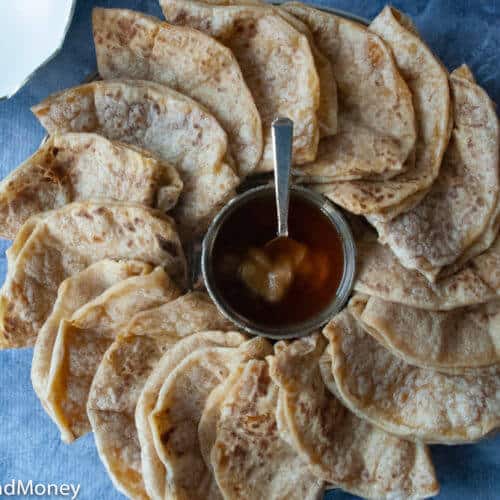 Puranpoli
Soft sweet rotis stuffed with a chana dal and jaggery filling
Ingredients
For the dough
2 1/2

cups

all purpose flour

1/4

tsp

salt

6-8

tsps

oil

water

for kneading
Instructions
To make puran
Soak the dal in hot water for 20 minutes.

Pressure cook on high for 4-6 whistles in a pressure cooker. Add more water if needed.

Drain excess water and save it for later. You can make delicious katachi amti with this water.

Transfer the dal to another pan and add grated jaggery while the dal is still hot. The heat will help the jaggery melt.

Turn on the stove and keep stirring the jaggery and dal mixture until it thickens.

Add salt and cardamom powder to the mix.

Puran is done when the spatula stands without any support without tipping.

Once the puran is slightly cool, use a potato masher or puran yantra or a food processor to mash it to a fine paste.
To make the dough
Add flour, salt and some oil to a stand mixer and knead on medium for 10 minutes while gradually adding water.

Add more oil as needed. The dough should be very soft for soft puranpolis.
To make puranpolis
Make small balls of dough and puran or equal size.

Flatten and stretch a ball of dough using your fingers.

Place puran in the dough and seal it with your fingers.

Roll it in some all-purpose flour and use a rolling pin to roll out a thin poli (roti).

Place the poli on a hot griddle and roast on medium heat until bubbles start to form. Make sure the bottom of the poli is slightly brown before flipping it.

Flip and cook on the other side. The puranpoli will puff up while you press it with a spatula on the hot griddle.

Serve the puranpoli with loads of ghee (or milk).
Video
Soft Delicious Best Puranpoli Recipe | FoodLifeAndMoney
Notes
This recipe makes about 30 puranpolis.
Note that these puranpolis freeze well in airtight containers for up to a month.
DISCLAIMER:
Please note that the nutrition information provided below is approximate and meant as a guideline only. Actual numbers may be different from those provided below. If you have health issues, please work with a registered dietician or nutritionist. As an Amazon Associate I earn from qualifying purchases.
Nutrition
Nutrition Facts
Puranpoli
Amount Per Serving (1 puranpoli)
Calories 190
Calories from Fat 18
% Daily Value*
Fat 2g3%
Sodium 41mg2%
Potassium 11mg0%
Carbohydrates 39g13%
Protein 4g8%
Calcium 42mg4%
Iron 1mg6%
* Percent Daily Values are based on a 2000 calorie diet.
Here are some other desserts you may enjoy.
Happy Eating and Feeding!