A cheese board makes the perfect prelude to an evening meal with dinner guests. It doesn't require a great deal of preparation and can be put together in a few minutes. It takes away the stress of entertaining. You can just relax with a glass of wine.
Picking the board for your charcuterie board
You can pick wood, or stone. It is easier to clean stone that it is to clean wood. You will also need 3-4 cheese knives depending on the number of guests and the types of cheeses.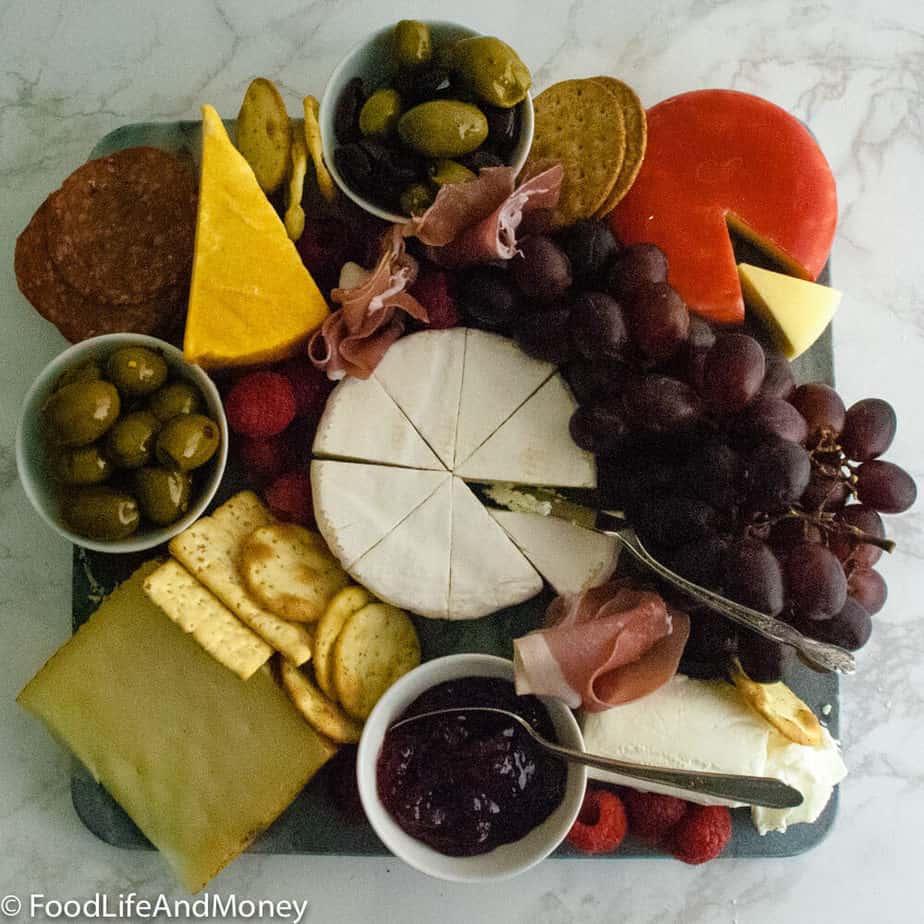 Selection of cheese
Pick at least 2-4 varieties of cheeses depending on how many guests you expect. Make sure to check the date on your cheeses, Here are a few options available.
Soft – Camembert, Brie, Goat cheese, Mozzarella are some varieties that spread easily on bread or crackers.
Semi-soft – Gorgonzola, blue cheese, Pecorino, Stilton, Port Salut are some semi-soft cheeses.
Semi-hard – Gouda, Provolone, cheddar, gruyere fall in this variety.
Hard – Aged cheddar, Parmigiano, Asiago, Aged Manchego
Selection of meats for the charcuterie platter
Most meats used for a cheese board are salt-cured, and dried. Here are some meats you can include on your board.
Salami
Prosciutto
Soppressata
Sausages
You can also add smoked fish like salmon
Try spicier versions of different cuts if that matches your taste.
Accompaniments to your cheese board
Pick one or two from each of the following categories.
Breads/Crackers – baguette, crostini, crackers, pita chips, multigrain chips – Aldi has some excellent varieties of chips for a reasonable price.
Fresh fruit – depending on the seasonal availability, you could pick grapes, raspberries, pomegranate, apples, pears, etc.
Dried fruit – apricots, raisins, figs
Jams/ jellies/ spreads – Strawberry, raspberry, apricot preserves, honey, maple syrup.
Nuts – almonds, pistachios, peanuts, cashewnuts.
Pickled items – olives, mushrooms, peppers.
Wines that pair well with the cheese board
Here are some wines that pair well with your board. Red wines go well with harder cheeses while whites go well with lighter, softer cheeses. This, however, is not a rule set in stone. Go with what you like. Here are some options to consider.
Pinot grigio
Sauvignon blanc
Cabernet sauvignon
Chardonnay
Pinot noir
Champagne
Prosecco
Additional tips
Pre-cut a little piece from each cheese facing outwards. Don't cut all the cheese because cheese does tend to dry out and it will be a nightmare storing it (if your guests don't finish the board).
Refrigerate your meats and add them to the cheese board right before serving to prevent spoilage.
Pre-cutting the cheese encourages your guests to serve themselves. If the cheese board is too perfect, no one will want to be the first one to mess up a perfect looking cheese board.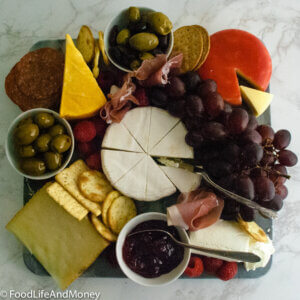 Meat and Cheese board recipe
Quick and easy cheese board or charcuterie board in minutes
Equipment
Cheese board – slate, marble or wood
Ingredients
1

round

brie – soft

1

wedge

Port Salut – semi-soft

1

wedge

Aged Manchego – hard

1

round

Gouda – semi-hard

1

log

Goat cheese – soft

2

tbsp

raspberry preserves

4

tbsp

olives

2 varieties

1

bunch

red grapes

1

handful

raspberries

2-4

varieties

crackers

1

pack

salami

1

pack

prosciutto
Instructions
Place cheeses on the board. Pre-cut the brie and place at the center. Place other cheeses close to the edge of the board for easy access to cutting and serving.

Place small (tapas) bowls of the raspberry preserves, and olives on the board.

Add your fruit, and crackers to the board.

Finally, add your meats right before serving.

Pair with delicious wine of your choice.
DISCLAIMER:
Please note that the nutrition information provided below is approximate and meant as a guideline only. Actual numbers may be different from those provided below. If you have health issues, please work with a registered dietician or nutritionist. As an Amazon Associate I earn from qualifying purchases.
If you like cheese, you may also like this homemade bread.