How to make a semolina cake with no eggs, no sugar and no butter |Cucumber Cake
This nutritious cucumber semolina cake is very easy to make and is a very popular breakfast item in Konkan and Goa. We make it a day ahead. Made with no eggs, sugar or butter, or white flour, instead we use semolina, jaggery and ghee to make it.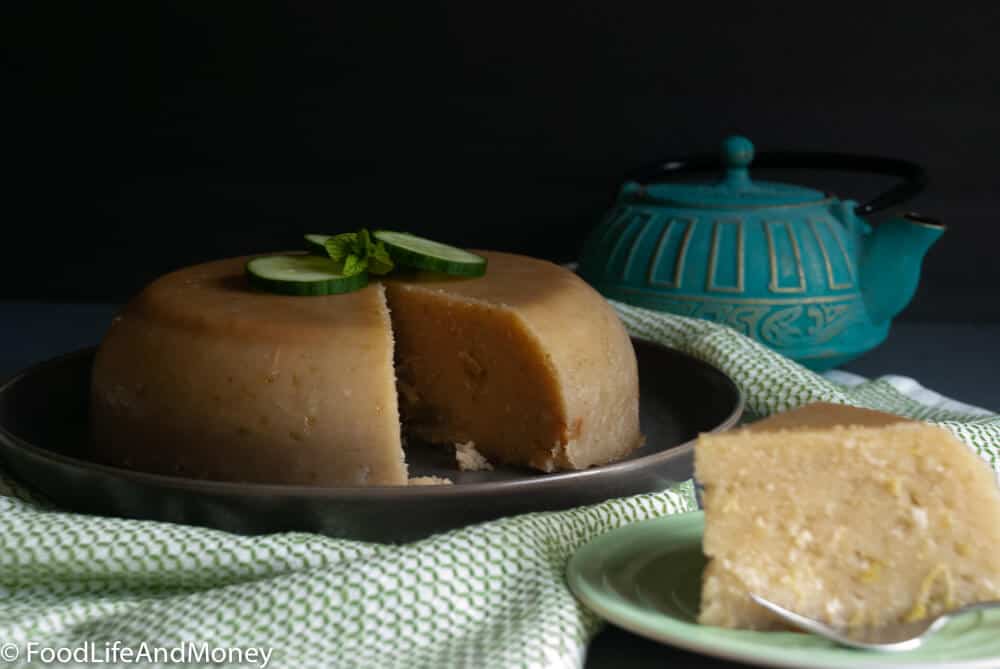 If you like this recipe, you may also like our watermelon cake and jackfruit cake.
This kid-friendly semolina cake is more nutritious than regular flour-based cakes and are perfect for snacking. They can be made a day in advance and stored in the refrigerator for up to 5 days. If jaggery is not available, you can replace it with raw sugar. Jaggery is basically unprocessed sugar in its rawest form. Thus, jaggery contains more nutrients and minerals compared to regular sugar. Most international stores have all the ingredients used in this recipe. Semolina will be in the cereal aisle and may be sold as Rava or Sooji.
Another great thing about this sooji cake is that you don't need an oven. It can be made in a pan on a stove-top. For the last 10 minutes of cooking, you will need a heavy bottom griddle. You will place your covered cake pan on the griddle and cook on a low flame.
Please let us know if you like this recipe or if you have any questions. We are always happy when our recipes work for people.
Cucumber Semolina Cake
Stove-top cake with jaggery, semolina and ghee
Ingredients
2

cups

semolina or rava

4

tsp

ghee

4

cups

water

1

cup

cucumber

peeled and grated

1½

cups

jaggery

¼

cup

grated coconut

fresh or frozen

¼

tsp

cardamom powder

¼

tsp

salt

¼

cup

cashew nuts
Instructions
In a pan, melt about 2-3 teaspoons of ghee and sauté semolina or rava for about 7 minutes on medium low until the semolina is slightly brown and fragrant.

Transfer the roasted semolina to another plate.

In the same pan, pour the water and add grated cucumber to bring to a boil on medium high.

Add grated coconut and jaggery and stir to mix.

Add salt, cardamom powder and cashew nuts.

Reduce the heat to low and add the roasted semolina, stirring to mix well.

The mixture will thicken. Keep stirring.

Once the mixture comes together, add 2-3 more teaspoons of ghee and use the back of a spoon to level the cake.

Cover the pan. Use a heavy griddle on low heat and place the pan on top to cook for an additional 10 minutes on low.

Turn off the heat, let the cake cool completely before unmolding carefully on a plate.
Video
Don't forget to subscribe to our YouTube channel FoodLifeAndMoney – Recipes.
---
---